Let's Get Something Straight …
By Lori Morris, Senior Editor |
This morning I had the pleasure of going down to the recently opened Capelli D'Oro 5th Avenue Salon in Manhattan's Flatiron district to experience Global Keratin's new Functional Keratin Hair Taming System (stay tuned for our writeup of the service in the February issue). The salon's owner, industry vet and hair straightening expert Leslie Correa did the treatment and talked me through the different steps. Once my hair was washed, Leslie started to apply the treatment to my wet hair, which differs from most Brazilian Keratin systems that require the hair to be dried 100% before application. Leslie explained that this saves him—and the client—about 20 minutes. More time was saved by the fact that the treatment doesn't require any time to "rest" on the hair before it's blow-dried and flat-ironed in.
The Functional Keratin Hair Taming System comes in three different strengths for different hair textures/issues and the client's desired results. Since I have fine, highlighted hair with just a slight wave and my main objective was to eliminate frizz, Leslie used the formaldehyde-free formula on me. There are also options for color-treated and coarse hair.
All-in-all, the application process was easy (less than two hours for my shoulder-length hair), odorless (the formulas come with different scents, but I barely even noticed the acai berry smell Leslie chose) and my hair doesn't feel goopy. I'll check back in in 48 hours when I'm able to wash my hair and see the results! For now, some pictures:
| | |
| --- | --- |
| | |
| Leslie Correa applying the treatment to my hair | The requisite "After" shot |

Straight Ahead: JUVEXIN and Global Keratin!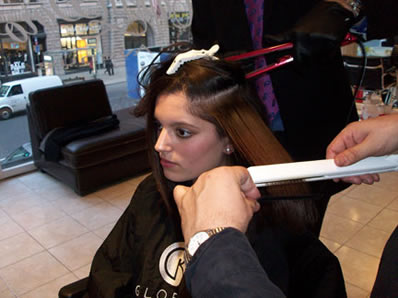 by Teen Vogue
Not all keratin are created equal! That's the Global Keratin motto, and after trying the process, I would have to agree. Nearly every salon I walk by in NYC is offering some variation of the keratin hair straightening treatment, so I've been very curious as to how the process works. My mane is difficult to tackle every time I wash it and the process of blow-drying and
straightening takes way more time than I wish to spend on it. I visited Leslie Correa, owner and master hairstylist at the Capelli D'Oro Salon, who helped me decide the perfect keratin formula for my hair and explained to me the perks of making the Global Keratin commitment.
The process is quick and easy, and the results are absolutely amazing. First, Leslie washed my hair and got ALL of the product off of it so that the keratin would quickly be absorbed into my cuticles. Next, he applied the perfect dose of the treatment all over my hair and immediately blew it dry.
Lastly, he made my hair pin straight with a flat iron to heat-lock the product into each strand. I couldn't wash my hair for 48 hours, but I didn't even want to, it was so soft and straight. When it did come time for me to shampoo, I was afraid I would not be able to get it back to its post-salon sleekness. However, after using the Global Keratin Hair Taming System with JUVEXIN Moisturizing Shampoo and Moisturizing Conditioner, a line designed to help extend treatment results, I realized this process was as good as it promised to be. After less than half the time it usually takes me to blow dry my hair, I had silky, straight tresses that did not even need to be flat
ironed.
I'm still shocked about the success of this treatment. The process can last up to five months, and I already cannot wait to have it done again before the NYC humidity gets to my naturally frizzy hair. Now, I just need to figure out what to do with all the extra time I've gained with my now short styling routine...
-Emily Gaynor, Beauty and Health Inter

My Hair is a Melting Pot: Global Keratin Treatment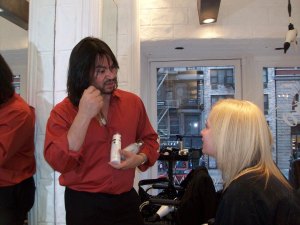 So, as you know, I've tried every single cultural hair phenomenon on earth. Right now, at this second, there's various Japanese, Brazilian, and American relaxing/smoothing/straightening systems in my hair.
And I just can't stop.
But, yesterday, I tried one I'm REALLY excited about.
Yesterday, I visited my good, long-time friend Leslie Correa at Capelli D'Oro 5th Ave Salon in New York City to try the Global Keratin treatment.
Now, as you know, I've tried 12,000 variants of this before, and while I love the BKT…I wasn't expecting anything unique.
I was wrong!
In fact, they don't even attempt to call it a "relaxer" or a "straightener" – it's a tamer, which is exactly what I need. (Girlfriend NEEDS to be tamed), and it works better than a lot of the stuff out there incorporates a unique keratin formulation which protects the hair's natural properties and prevents damage to the hair surface.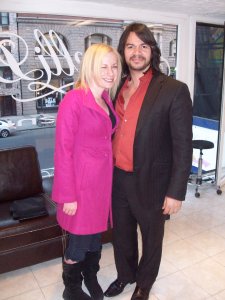 My friend Amber likes to say how sulfates are the high-fructose corn syrup of hair care – I think it's so brilliant that I am going to steal it here. However, I will take it one step further and I will say that Global Keratin's Juvexin formula is to BKTs, what sulfate-free shampoo is to guck-free shampooing.
Unlike over-processed hydrolyzed keratins found in a lot of other products, this uses organic, active, unprocessed keratin in its raw, natural state. Without all the processed down ingredients, it lasts for up to five months! Seriously, think about it: You know how steamed broccoli often loses a lot of the nutrients of fresh broccoli, and doesn't taste really as great either? This is the same exact thing. My hair is crisp and fresh, and full of nutrients!
And part of the process is also an after-care, because like all other BKTs, you are not allowed to use sodium on your hair after you have the process done. This includes shampoos, conditioners, deep, leave-in conditioners, and leave-in spray (perfect for when I'm in Cancun!) – the after-care products also contain Juvexin Hair Taming System., the active keratin that protects the hair, maintains the treatment, and protects color — but it also works amazing on people who have never had the treatment done! (It has no sodium chloride OR sulfates!)
I just had my hair done yesterday, so I am not allowed to wash it till tomorrow afternoon – that's two days vs. the four you usually have to wait! – but I'll keep you posted on how it looks, and how the treatment lasts!
I have five complete aftercare sets to give away – to have your chance to win, please choose any two entries on this blog to comment on, and then RT this entry!
Deadline to enter is April 1.
Good luck